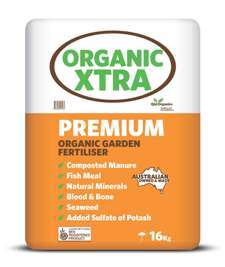 General Purpose Fertiliser
Organic Xtra is the perfect blend of composted poultry manure, blood & bone, fish meal, seaweed, natural minerals & sulfate of potash. It is a premium, 100% organic fertiliser.
It is fool proof to apply – you cannot overdose with Organic Xtra. It will not burn your plants, even if it is not watered in. Organic Xtra is suitable for use on every plant in your garden, making it a convenient, intelligent and economical choice.
Organic Xtra has:
a poultry manure base that is naturally, aerobically composted to kill pathogens and support healthy levels of beneficial micro-organisms
blood and bone and fish meal to supply slow release nitrogen and to boost phosphorus levels
sulfate of potash to support potassium levels without the adverse environmental effects of muriate-based potash
seaweed, fish meal, calcium and magnesium to boost and maintain at least 13 essential trace elements
Application:
Apply about 1 cup for the smaller plants, and up to 3 cups for larger plants when first planting. Then water in well.
Available products
Quantity